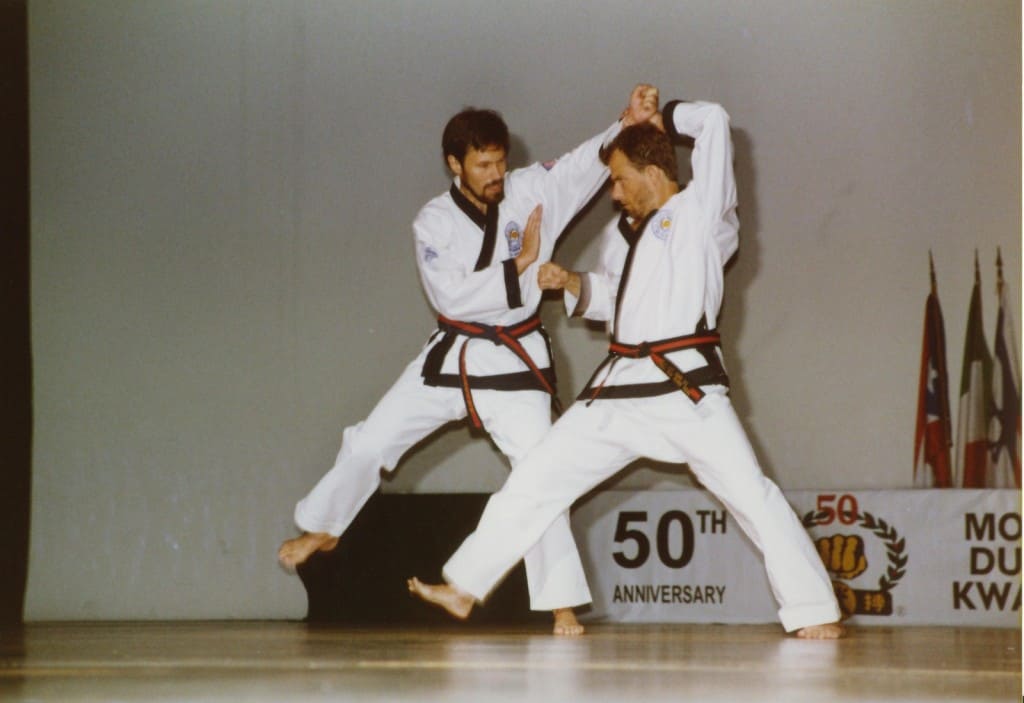 Kwan Jang Nim H.C. Hwang will review all demonstrations proposed for presentation at the Moo Duk Kwan® 70th Anniversary.
During the 2014 World Moo Duk Kwan Symposium hosted by Puerto Rico Moo Duk Kwan® , the following decisions were made regarding 70th Anniversary Demonstrations:
Demonstration content shall reflect the Five Moo Do Values in the nature of the performance, etc.
Demonstrators are encouraged to consider all creative aspects of Soo Bahk Do that might be showcased in a demonstration
A limited qty of each category of demonstration may be selected. For example, only xx hyung demonstrations may be selected as finalists.
Total time allowed for all demonstrations is 90 minutes.
Demonstrations may not exceed 5-6 minutes each which shall include

preparation time from the moment the demo is announced to enter stage
performance time of the demo
cleanup time to exiting stage (and next demonstration being announced)

Demonstrations shall be well organized and well prepared to fit the available performance space.

The stage is approximately 4 meters x 20 meters  (roughly 12 ft x 60 ft)

Identify the number or demonstration performers
Provide a text description of the demonstration content

no later than May 1, 2015

countries or individual representatives of a country who are interested in presenting a demonstration at the Moo Duk Kwan® 70th Anniversary

shall submit a video of the proposed demonstration for review

Failure to submit a video for review may result in forfeiture of demonstration opportunity.

Following review of the submitted videos, feedback may be provided to demonstration performers for incorporation into the presentation.

no later than June 30, 2015

 demonstrator who were provided with feedback shall submit a new video showing that the performers have incorporated the adaptations expressed in the feedback provided.
Demonstration videos shall be uploaded to the Soo Bahk Do Institute.
Video upload instructions can be found here:
July 31, 2015 those who are selected to present a demonstration at the Moo Duk Kwan® 70th Anniversary will be notified.
If you still have questions, you can post your question and discuss demonstrations here. You will need to be logged in to post.