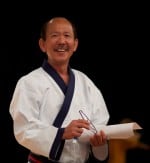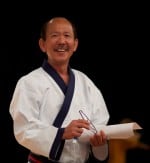 This page features messages from H.C. Hwang, Moo Duk Kwan® Kwan Jang Nim with his most recent message at the top of the list.
Kwan Jang Nim's Messages

On behalf of the Kwan Jang Nim, Today, Kwan Jang Nim H.C. Hwang was honored by some of his life long students and practitioners at a small Sunday Brunch to help celebrate his 75th Birthday.  Small, but well attended by members of Region 2, present and former students of the Kwan Jang Nim at Springfield and Mountain Ave. Dojangs.  Kwan Jang Nim addressed this gathering wit
[...]
Author
H.C. Hwang is Moo Duk Kwan® Founder Hwang Kee's appointed successor for the Moo Duk Kwan® Kwan Jang Nim position. As President of the World Moo Duk Kwan® he works to preserve the Moo Duk Kwan® martial art organization's legacy, philosophy, Moo Do values, technical excellence, and continues the evolution and development of the Soo Bahk Do® martial art system. Connect with him via the websites and social network links above.