Key Concept #1 Courage (Yong Gi) (V2)

Kwan Jang Nim Technical Video 05-08-2020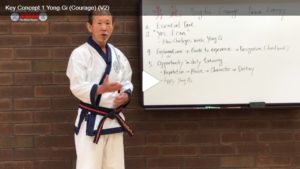 Key Concept #1 Courage (Yong Gi) (V2)


Kwan Jang Nim Technical Video 05-08-2020
Reading Time:
< 1
minute
Moo Duk Kwan® President H.C. Hwang shares the definition and his insights about the Key Concept #1 Courage (Yong Gi).
Kwan Jang Nim Technical Video 05-08-2020.
Yong Gi 용기, 勇氣
---
All 8 Key Concept Videos By Kwan Jang Nim H.C. Hwang on one page for quick access.