Key Concept #4 Honesty (Chung Jik)

Kwan Jang Nim Technical Video 05/29/2020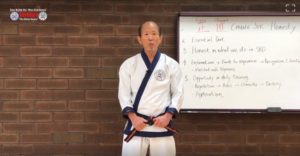 Key Concept #4 Honesty (Chung Jik)


Kwan Jang Nim Technical Video 05/29/2020
Reading Time:
< 1
minute
Moo Duk Kwan® President H.C. Hwang shares definition and insights about Key Concept 4 Honesty (Chung Jik)
Kwan Jang Nim Technical Video 05/29/2020.
Chung Jik 정직, 正直
This video was scheduled for publication on Friday May 29, but failed to go live due to technical issues. Our apology for the delay.
---
All 8 Key Concept Videos By Kwan Jang Nim H.C. Hwang on one page for quick access.