Key Concept #4 Honesty (Chung Jik)

Kwan Jang Nim Technical Video 05/29/2020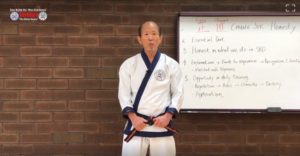 Reading Time:
< 1
minute
Moo Duk Kwan® President H.C. Hwang shares definition and insights about Key Concept 4 Honesty (Chung Jik)
Kwan Jang Nim Technical Video 05/29/2020.
Chung Jik 정직, 正直
This video was scheduled for publication on Friday May 29, but failed to go live due to technical issues. Our apology for the delay.
---
All 8 Key Concept Videos By Kwan Jang Nim H.C. Hwang on one page for quick access.

H.C. Hwang is 
Moo Duk Kwan® Founder Hwang Kee's appointed successor for the Moo Duk Kwan® Kwan Jang Nim position
. As President of
the World Moo Duk Kwan®
he works to preserve the Moo Duk Kwan
®
 martial art organization's legacy, philosophy, Moo Do values, technical excellence, and continues the evolution and development of the Soo Bahk Do
®
martial art system. Connect with him via the websites and social network links above.

Latest posts by H.C. Hwang (see all)