WMDK Leaders unite in Korea 2015.
Leaders and representatives from many countries met again in Korea for the 2015 World Moo Duk Kwan Symposium, this unifying event was held at 23 Josan-ri, Yangdo-myeon, Ganghwa-gun, Incheon, South Korea.
Kwan Jang Nim HC Hwang said ' It was an busy 10 days with the Korea KDJ, Symposium, 70th Celebration, and training at the HQs Do Jang in Seoul, I received plenty positive feed back from the other martial arts who saw our demonstrations.'
We had representatives from Iceland, Australia, Argentina, Mexico, USA, France, Iran,Puerto Rico, Spain, France, Uruguay, United Kingdom and reports and proxies from several of other countries who were unable to join the historic event.
Solid progress was made on the Intellectual property of the art, trademarks and ongoing management protocols.   And importantly, the international relationships across the groups were nurtured and strengthened.
At the end of the meeting our Kwan Jang Nim said 'Congratulation for your demonstrations of Philosophy in Action.  It strengthened the Moo Duk Kwan history and culture that will be appreciated by the next generations. '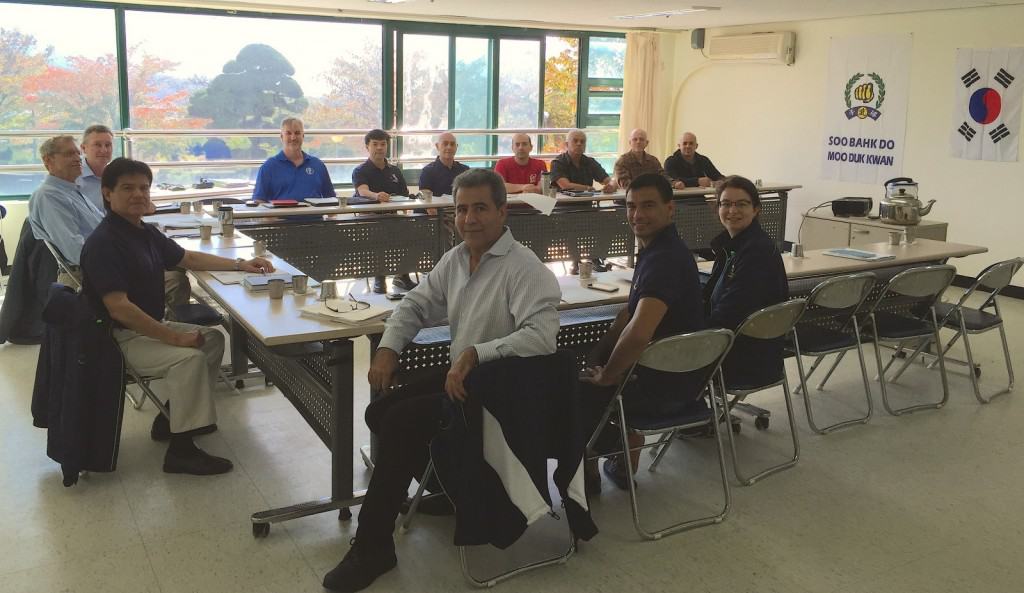 I have included a photo of many of the attendees.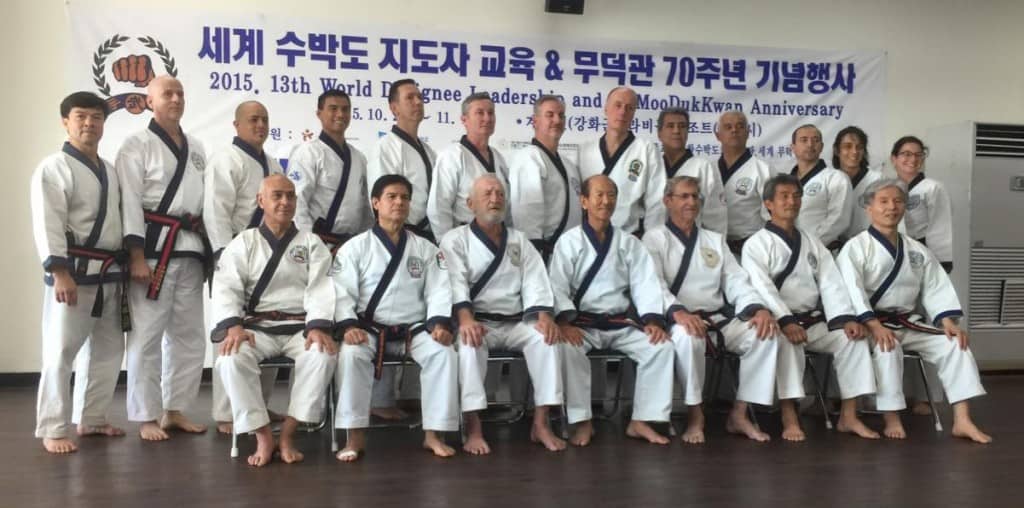 Dear World Moo Duk Kwan Designees,
I trust this finds you and your families in good health.  We hope that now you are back from the travels to Korea you can share your historic memories with the membership in your countries.
For all of you who could make it to the event thank you for your efforts over the week.  It is appreciated.  We have grown together and we are now maturing into a cohesive group.
Thank you also to those who organized proxy votes and submitted a report on your country.  It really makes the event representative and more meaningful and ensures your members have a voice and representation at the highest levels of the WMDK.
Several important accomplishments were made and a deeper understanding of the art and our global connection was achieved. Representatives form Iceland, Argentina, France, England, USA, Uruguay, Chile, Australia, Mexico, Puerto Rico, Spain, Iran ....  all shared their professionalism and desire to bond as leaders in the art.
Soon the minutes will be released and I encourage you to all read them and see how we can all work together for our art which will benefit the countries regions Do Jang teachers and most importantly our membership....... the Gups, Dans, and seniors.
Please remember that the next symposium is in Uruguay and it is a ZONE Symposium.
Looking forward to seeing you at future events.   And when ever you visit Australia, please remember that our Do Jang door is always open and we are keen to see you.
Yours in the Moo Duk Kwan

Kriton Glenn
Vice Chairman
Korean Symposium 2015