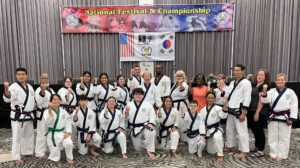 On behalf of the U.S. Soo Bahk Do Moo Duk Kwan Foundation, we extend our warm wishes to everyone for continued good health and wellness.
As we look ahead to the upcoming holiday season, as well as the end of the tax year, we would like to ask for your support of the Foundation in promoting our fundraising drive to replenish the scholarship fund that has, and continues to provide financial support for our membership.
Our collective effort, and your tax-deductible contributions will help subsidize instructor certifications, assist those with financial hardship, retain membership in the Moo Duk Kwan, and send members to Nationals and Regional events.
Thank you very much!
Soo Bahk!
Tony Le, Sa Bom, Region 2
Foundation Board Member/Treasurer