From Region 5 Soo Bahk Do Moo Duk Kwan
Sad news to report. This was sent by Sa Bom Nim Kendall Jenkins' daughter 2 days ago:Hello Family and Friends. I felt that it was time to let you all know the 
journey my dad is currently on now. He was diagnosed with a very aggressive small cell lung cancer. His health is slowly deteriorating. We are still trying to get some tests done to see exactly where it has metasticized. My dad has a great legacy and has touched so many lives and has a lot of friends. I'm sure a visit, or letter would cheer him up greatly. Prayers are always welcomed. We are all very saddened by this news but are staying strong for him. We love you Slick 50.
Sharon Jenkins
Addendum:
Last evening we received news he had been taken by ambulance to the hospital.
It is with great sadness we share that Sa Bom Nim Kendall Jenkins ( Dan Bon 14219, student of Sa Bom Nim Russ Hanke) has passed away. 10/26/41 - 3/1/2020 He was a Region 4 Examiner and an important part of the history in R4. We know Sa Bom Nim Hanke , is waiting to greet him.

❣️

💔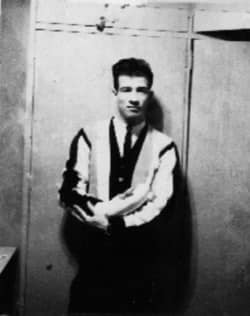 Here is a previous article contribution by Sa Bom Kendall Jenkins from Midnight Stories, 1993.
Our first contribution to midnight stories comes from Kendall Jenkins, Dan Bon #14219,  Thanks Sa Bom Nim.
Midnight Story of  Sa Bom Nim Russell D. Hanke
1960--1970
He began his training in 1960 under Mr. Dale Drouillard, Dan Bon #757. During this time he has trained in many different martial arts and was Michigan's leading authority on Oriental and Asian non-projectile weapons and he has displayed in his do jang one of the most impressive weapons display in existence, before he would display a weapon he would research it's applications and practice with it until he became proficient. In 1968 he invented a new type of Police weapon called the "Nutcracker Flails", with this weapon he went on to teach over 100 police departments throughout Michigan his system of CCC. He was certified by the Michigan Law Enforcement Council (Michigan State Police). 
---
Besides being a dedicated martial artist, he is a graduate of Psychorientology and a student of Parapsychology. He also is studying theology and majoring in the Aramaic and Hebrew translations of the Bible. After training Police Officers for 2 years he decided that he needed to spend more time on his personal training.
---
1970--Present
During the early 1970s, when the formation of the U.S. Tang Soo Do Moo Duk Kwan was in it's infancy, Sa Bom Nim Hanke was one of the dedicated martial artists who would become one of the original Board of Directors member. After being accepted by Sa Bom Nim H.C. Hwang as his student, he quit his weapons training so that he could focus his attention on Kwan Jang Nim Hwang Kee's teachings and philosophy. He traveled by motorcycle and van with his faithful dog Satan (which is another great midnight story) to every single State in the continental United States. He would teach clinics and train with nature in remote areas of the country just to spread the art of Tang Soo Do. He would drive from Michigan to New Jersey to train with Sa Bom Nim H.C. Hwang at every chance he could, which was pretty often. Sa Bom Nim Hanke has never once missed a National Federation event, Board of Directors meeting or Ko Dan Ja Shim Sa since the inception of the Federation. This is honest dedication to the teachings and philosophy of Kwan Jang Him Hwang Kee.
Respectfully submitted by,
KENDALL JENKINS, #14219