The Moo Duk Kwan Pin
I am not going to assume that many of our current practitioners or former practitioners are aware that the Moo Duk Kwan ®Pin has been a very traditional way of showing membership and support for the World Moo Duk Kwan ®.  I personally remember getting my first pin for achieving my first two stripes on my white belt.  I received my rank card from my instructor (Mike Masley Dan Bon #10180) and along with my ID card, he gave a bronze pin and explain to me that I should wear it on my outer garments all the time.
After getting over the shock of receiving this "priceless pin"... I realized that everyone in the class had their pins too.   But as a white belt I noticed that my seniors pins were different.  My Green Belt seniors had a embedded shiny color of green enamel in the scroll of the emblem, the senior Red Belts also had their pins but with a red colored embedded shiny enamel material in their pin scrolls.  And it was also the first time I actually noticed my instructor's Silver and blue pin on his jacket.
It was like I had reached some sort of awareness level I didn't have before.  Really just not being observant at the time.
There were a few instances when I got to talk to my instructor while we were at our High School, since we attended the same school.  And I brought up the pin to him, and he basically told me that in Korea if you earned your pin, common people on the street would show a tremendous amount of respect to those who had, especially the dan level pin.
Over the years, I heard plenty of stories of how the Moo Duk Kwan ® had a reputation in Korea for being "enforcers" in their neighborhoods, people would seek out Moo Duk Kwan members for assistance and help whenever they were in some trouble.  The Moo Duk Kwan School ®  was a strong brotherhood and sisterhood of practitioners that many times stood on the side of Justice.
Recently we asked the Kwan Jang Nim H.C. Hwang, if the issuance of the pins was a local idea here in the United States or a tradition that was started in Korea with the Moo Duk Kwan ®.  He stated that indeed it was an initiative of the Korean Moo Duk Kwan to identify its members who were students of the art and followed the Moo Duk Kwan School ® .
He stated in his communication with me, "It bring me back to old time when the MDK influenced communities on Korea.  I believe Gup pins was introduced around 1948-49.  It is based on several conversation with Hwang, Jin Tae Sa Bom Nim (DB #11) while he was alive.   In my memory, it was never been discussed whose idea of Gup Pin.  We always were assumed it was the Founder.  In 1950's, Dan Number was engraved back of pin in manually.  I remember I helped to do them."
The book, "The History of the Moo Duk Kwan ® , Copright 1996, Author: Hwang Kee, on page 63 starts to describe the history of the Dan Bon (Dan Bon Pin number), and it describes how "the Moo Duk Kwan ® had established such a high reputation and respect as a Moo Do Organization, not only among the martial arts community in Asia but by the general public as well".
I don't know exactly how many Moo Duk Kwan ® schools in the early 1960s here in the U.S. also handed out the MDK Pins with each rank achievement.  Back then the belt colors were: White, Green, Red and Midnight Blue and of course, the Ko Dan Ja belt (Masters).
The pictures below of the various pins are from my personal collection, that was recently added to by the generous gift from Frank Bonsignore Sa Bom Nim, Charter member.  As you will see the original pins say "Tang Soo" and the most current ones say "Soo Bahk".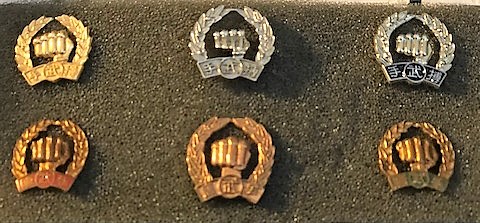 Recently, headquarters at Springfield, may available to all members the ability to obtain the Gold pin and the solid Silver pin (which both are pictured here).  I understand its still not too late to obtain them, but supplies are limited, so order yours today.
I also spoke with Steven Lemner Sa Bom Nim, 7th degree Dan 23073,  (https://www.lemnerssoobahkdo.com/) who has had an active dojang now since 1986,  and is currently celebrating his 32nd year anniversary.  And in discussing the MDK pins, he stated that he never received the different gup pins but instead different colored ID cards to celebrate their rank achievements.  He also shared that one of this students, actually a jeweler by trade, designed his Ko Dan Ja Gold pin by making the mold and pouring in the gold, as a personal gift on achieving his Ko Dan Ja rank.  A one of kind MDK pin!  Priceless!
From Lemner Sa Bom Nim: "Here is my pin. Hand made from a cast by one of my Edans. Mr. Javier Acevedo. Dan #35325.  As you can see the lettering is "Tang Soo Do", because I tested for Samdan and Sa Bom in 1994, just before the name change to Soo Bahk Do, because the Gup pin he casted it from was the "Tang Soo Do" bronze pin. He also added the Color blue in the scroll to make it special. Here is the pin and a picture of him".

Lemner Sa Bom Nim also mentioned that years ago the US Federation had Gup ID cards that were issued also by color of the belt achievement.  Here are some pictures of those ID Cards. Our special thanks to Lemner Sa bom Nim for sending us these photos.
I hope we can bring back this tradition to our membership.  If anyone has any further information or history concerning the MDK Pins, please email me directly at rob13927@gmail.com or post a comment below.
In Moo Do,
Roberto Bonefont, Sr., dan bon 13927
Region 2
Here some more detailed photos: