KO DAN JA SHIM SA KOREA 2013 HAS BEEN COMPLETED.  CONGRATULATIONS TO ALL THE CANDIDATES AND VISITORS WHO ATTENDED AND SUPPORTED THE SHIM SA!
SOO BAHK!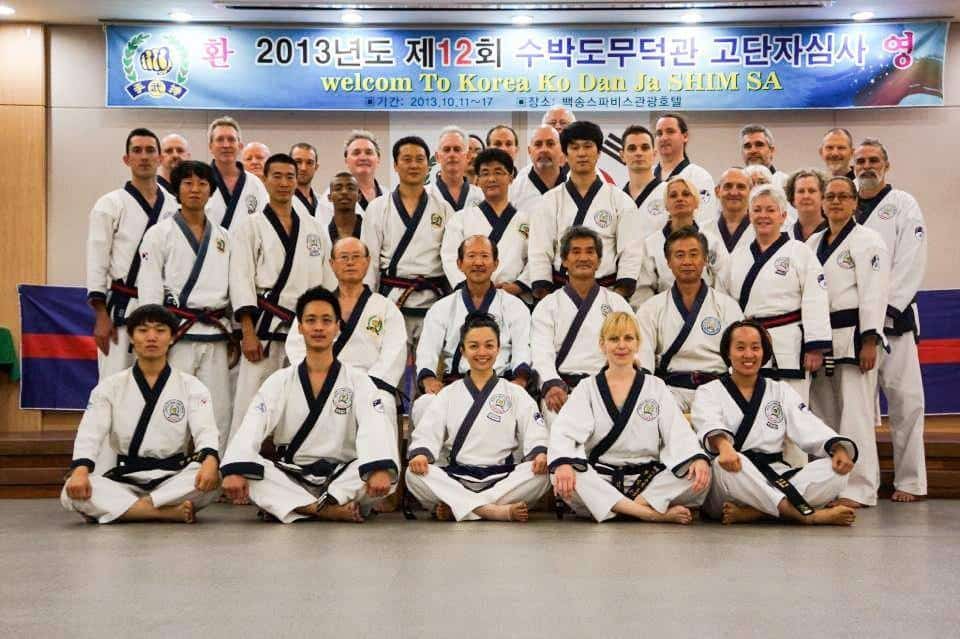 THE WORLD MOO DUK KWAN® KO DAN JA SHIM SA KOREA 2013 IS UNDERWAY.  The Ko Dan Ja Shim Sa is being held in Kumi (near Daegu), South Korea.
October 11 at 9:00am until October 18 at 5:00pm in UTC+09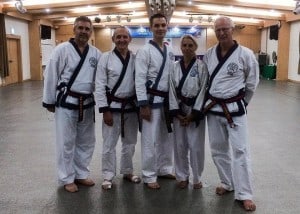 Left to right: Peter Douris SBN, Ian Prior SBN, William Trevino SBN, Dawn Estey SBN and Zdenko Beg SBN.  The above 5th Dan candidates are all from Region 2 U.S.A.
From the Kwan Jang Nim:
Dear Master Bonefont,
Thank you for the updates in P.R.
All candidates will be gathered at the central Do Jang tomorrow morning and plan to visit the Founder's resting site and head to the KDJ site which will takes about 3 hours of drive.
We are having 30+members from Australia, France, Korea, and USA with candidates, visitors and officials at the KDJ week.
It will be a good KDJ week.  I will stay about a week extra for ground work for the MDK 70th in 2015.
Your help with the WMDK web meant a lot for memberships in the MDK and myself.
Mucho Gracias.
In Moo Duk Kwan,
HC Hwang
ANYONE WHO WOULD LIKE TO SEND SPIRIT MESSAGES IN SUPPORT OF THE KOREA KO DAN JA SHIM SA, PLEASE EMAIL ME AT rob13927@gmail.com and I'll post them here.
Anyone who has any pictures, please email them to me at the above email address and I'll post them here.
SOO BAHK!
SPIRIT MESSAGES:
TO ALL THE KOREA KO DAN JA SHIM SA CANDIDATES AND VISITORS, OUR BEST GREETINGS FROM THE USA AND ON BEHALF OF REGION 2, BEST OF LUCK TO OUR REGION 2 CANDIDATES, Douris, Prior, Trevino, Estey and Beg Sa Bom Nims... we wish you a wonderful shim sa and Godspeed on your way back to us.  Represent!!!!  Soo Bahk!
Roberto Bonefont, Sr.
Region 2 USA
Dear Ko Dan Ja candidates and visitors to KDJSS KOREA 2013.
I hope you all are well and with high spirit.   I am pretty sure this will be a tough week for everybody but at the same time the best in your Moo Do life.
Work hard and be happy for it.  My heart is with you and my soul is also training
there.
Yours in Moo Duk Kwan.
José Luis Blotta
Dan bon #20557
Dear Kwan Jang Nim, TAC Members & Assistants, Candidates, and Visitors -
I hope this message finds you all well, and thoroughly enjoying your KDJSS experience.Thank you all for your tremendous effort to strengthen the foundations of our art and improving international human relations.  You are an inspiration to all of us, and we are all thinking of you during your time in Daegu.Special shout out to all my new friends from Australia, and to Austin SBN - I had an incredible time with you all in Darwin & Adelaide, and wish you the best.  Stay healthy, drink in the moment, and I hope to see every one of you again soon!Finally, thank you to Kwan Jang Nim for your tireless leadership.  The amount of effort you put in in terms of travel, training, and study for the benefit of all of us is an inspiration.  Thank you from the bottom of my heart, sir.SOO BAHK!Yours in the Moo Duk Kwan,
PJ Steyer
Boston Classical Soo Bahk Do
"Philosophy in Action!"
Internet: 
http://www.bcsbd.com/
Phone: 
781.367.8060
To All,
Enjoy the moment and the new friends you make because these are the best times of your life in a training sense.
Wish I was there.
Soo Bahk,
George Manns