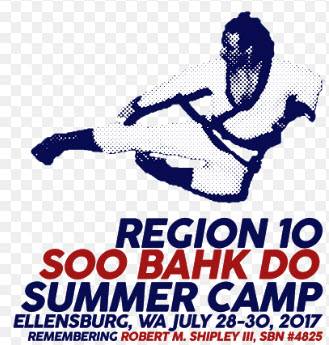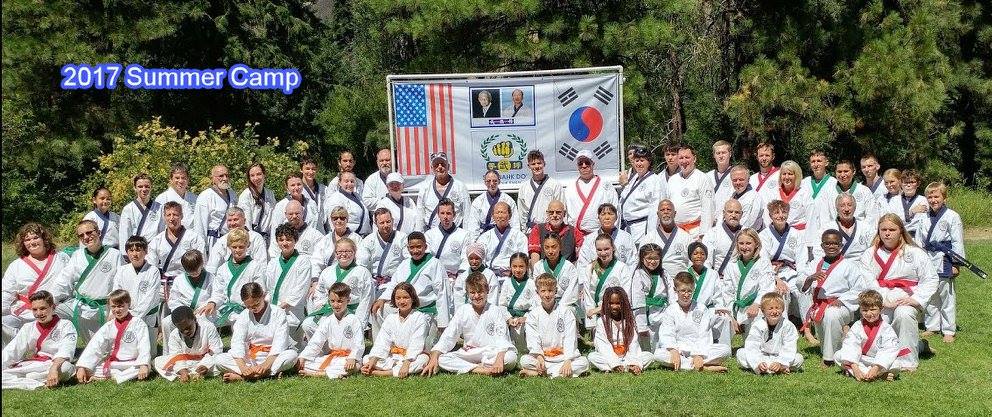 A region 10 tradition, honoring the past, to create the future.  Region 10 (Northwestern part of the U.S.) organized and held a summer camp for 2017, special guest included Kwan Jang Nim H.C. Hwang, TAC member Sa Bom Nim Lockwood, and the family of the Later Robert Shipley, Sr., Sa Bom Nim, Hu Kun In, and Charter Member.   The Late Shipley Sa Bom Nim was honored with the World Moo Duk Kwan Lifetime Achievement Award presented to his widow Hea Shin, and his son, Robert M. Shipley IV Sa Bom Nim (4th Dan).
Two other special presentations were given to Chuck Smith, Sa Bom Nim, his presentation to Yuk Dan by Kwan Jang Nim H.C. Hwang and the exceptional leadership award to Master Hume, also presented to her by Kwan Jang Nim H.C. Hwang.
#worldmdk #youthleaders #soobahkdo
Here is the report from Region 10:
Nearly 70 members from throughout Region 10 including Montana attended our annual Summer Camp and TAC clinics with Kwan Jang Nim and Joshua Lockwood Sa Bom Nim as our guest instructors.
This year was especially memorable as we honored Robert M. Shipley III Sa Bom Nim. The Shipley Family joined us to receive his Lifetime Achievement Award (posthumously) from Kwan Jang Nim. Many members shared personal memories of their connection with Shipley Sa Bom Nim and the difference he made in their Soo Bahk Do training.
Kwan Jang Nim taught a seminar on Preserving the Moo Duk Kwan identity. Lockwood Sa Bom Nim lead each morning's Moo Pahl Dan Khum emphasizing its benefit to our training. He also taught the Pyong Ahn hyung patterns and re-visited Moo Do Value sparring.
On Saturday, Kwan Jang Nim promoted Ms. Brown and Mr. Iverson to Cho Dan and Smith Sa Bom Nim to Yuk Dan. Kwan Jang Nim also presented Master Hume with the "Exceptional Leadership" certificate in recognition of her local and regional leadership.
Saturday afternoon, the youth enjoyed rock wall climbing, the zipline, archery, and playing in the creek while the adults enjoyed personal training with our guest instructors, including KDJSS candidate training.
Saturday evening we enjoyed the traditional s'mores and skits from our members (such as "Identify the Ko Dan Ja charades", comparing KDJ members to Chuck Norris jokes, and more!). This included passing around the "talking stick" to members who shared Soo Bahk Do memories and how Soo Bahk Do has changed their lives.
Very special thanks goes out to the Region 10 Summer Camp Committee and Dan Association for making this a very successful event! Soo Bahk!