The concepts of Weh Gong, Neh Gong, and Shim Gong are very familiar terms to us as Soo Bahk Do Moo Duk Kwan® Moo Do In. They are reflected throughout the Moo Duk Kwan® curriculum and expressed in our rich culture as philosophical wisdom that is the basis for technical and philosophical actions. They are introduced and emphasized within the curriculum in steps that build incrementally through the levels of our ranking system. 
Generally speaking, Weh Gong is the focus for Gup members, while Neh Gong aspects of emphasis are targeted for Dan members. Shim Gong aspects of our training then focus on Ko Dan Ja practitioners, each at the appropriate level. This article is meant to provide a better clarification of what Shim Gong is and how to strengthen it within each Soo Bahk Do practitioner. 
The use of Huh Ri (waist/hip) is the key element to strengthen Weh Gong in our training. Ho Hoop (breathing) is the key element to strengthening the Neh Gong. It provides clear direction for us to apply through steps a basic organization and dispersion of energy when demonstrating Soo Bahk Do technique. The mind is the primary focus for Shim Gong training and requires discipline and understanding of our Moo Duk Kwan® system to properly cultivate. In philosophical terms, the mind is the "Mu Sang" or invisible and unlimited aspect of the process of generating and focusing energy. It occupies a potentially endless space. The mind provides the "intention" or "motivation" for action. It provides the basis or justification for actions that must be grounded in Moo Duk Kwan® philosophy which is also aligned with nature. 
There are three important areas that may help us to understand Shim Gong to assist in strengthening it during our training. The intent is to show how the mind, philosophy, and nature are engaged through Shim Gong emphasis. 
First, we start with the mind. There are three elements that need to be emphasized:
Cho Shim: Beginning mind – Honor
Joong Shim: Centered mind – Discipline
Jin Shim: Sincere mind – Respect
Cho Shim
Cho means beginning and Shim means mind. Cho Shim exists in all our beginning relations, such as at beginning friendships, marriages, Sa Jei Ji Gan (Instructor and Student relations), or even at the beginning of your business or work etc. 
At this beginning stage of relations, Cho Shim is usually full of spirit of enthusiasm, hope, excitement, appreciation, commitment etc. We have all experienced this. Naturally, it grows from a simple optimistic and hopeful beginning into successful relations or business. Over time, one may become successful and comfortable (sometimes overly comfortable) and lose Cho Shim. Forgetting where he/she came from, and/or who assisted along the way. 
When the Cho Shim is lost in the mind, relations suffer, optimism wanes, and most importantly the spirit is diminished. It may be too late to reestablish relations when this is finally realized. There are many examples of this all around us. Preserving Cho Shim is very important for us to keep in order to enjoy ongoing success in all relations. 
Cho Shim helps to keep our attitudes in the right place based on honor and humility 
Joong Shim
Joong means Center and Shim means mind. 
When principles and ethics are firmly set within your mind, you are in good Joong Shim, or "centered mind". 
When you are in Joong Shim, you will have rightful thinking and rightful action in your presence. It will shape the person and exhibit attributes such as dependability and trustworthiness. Virtuous behavior will be exhibited and form the basis for our intention and motivation to act. A stable Joong Shim is one grounded in virtue, or right-doing/correctness. It is the foundation of the Moo Duk Kwan® principles. Aligning the mind with these principles creates a stability of temperament. When Joong Shim is lost, the mind loses its balance. A balance that adheres to the important values in life. 
It is very important to have Joong Shim as a Moo Do practitioner. In the Chinese character, Joong and Shim are two separate characters. It becomes one character when Joong and Shim characters are put together (Shim character placed under Joong character), it is pronounced Tchoong which means "loyalty". 
Joong Shim helps to cultivate our presence to be in a right place based on discipline.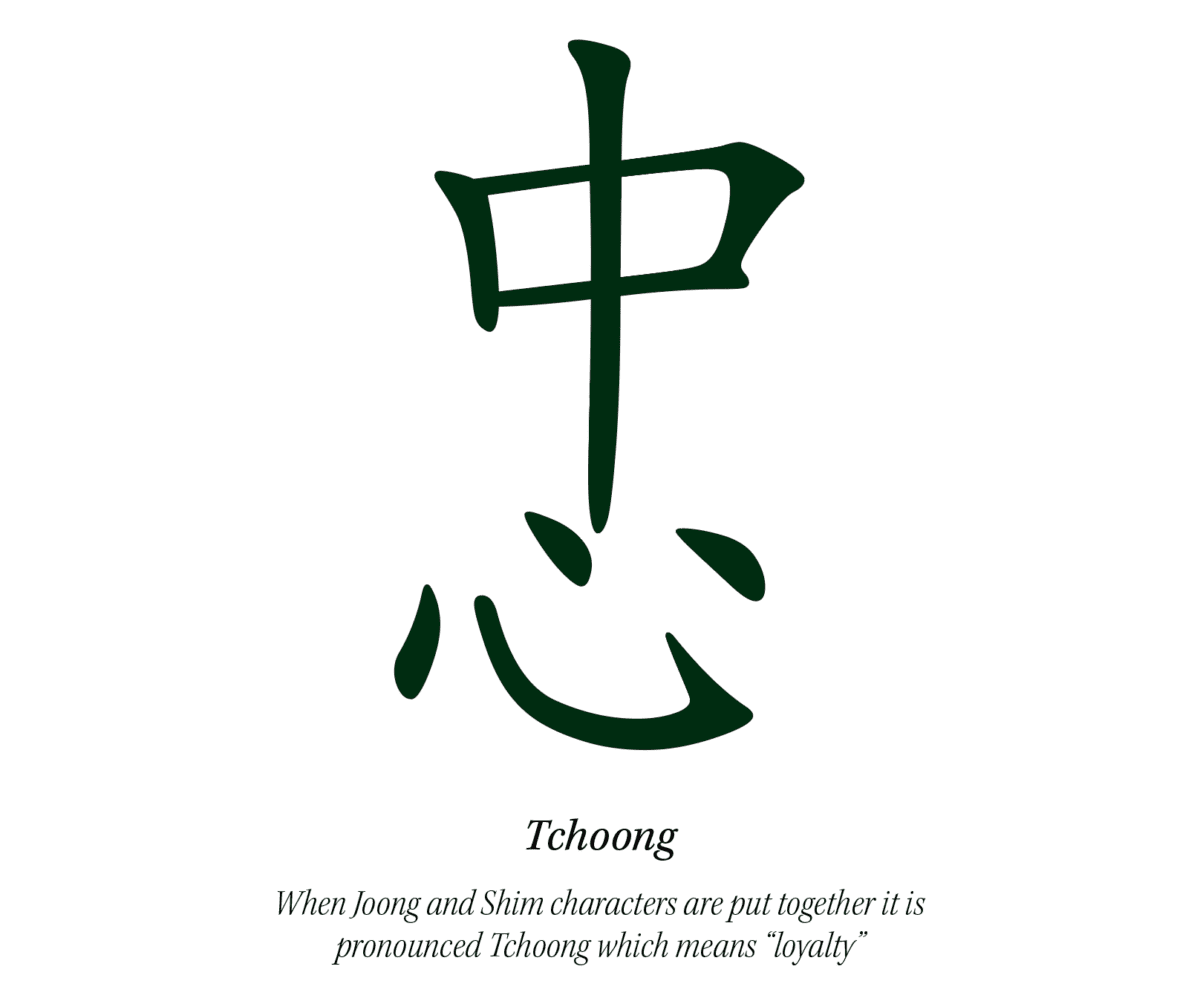 Jin Shim
Jin means sincere and Shim means mind. Jin Shim is the state of having a sincere mind in relations and in consideration of others. Your thought, speech and actions reflect your sincerity. You mean it in what you say and what you do. 
Jin Shim helps our mind to reside in a right place for a meaningful connection based on respect.
Having Cho Shim, Joong Shim, and Jin Shim in our mind establishes a strong foundation to embrace the Shim Gong. We can see good examples of Shim Gong in action in the Moo Duk Kwan® history. The Founder, Hwang Kee had lived 31 years of his life under the hardships of Japanese occupation. This was followed by a difficult time through post war hardships at the end of WWII, Korea's period of independence, the Korean war, and finally the military coup. Throughout all he never lost his Cho Shim, all while establishing and nurturing the growth of the Moo Duk Kwan® which profoundly impacted his students globally for nearly 80 years. All while demonstrating his Joong Shim and Jin Shim by avoiding immoral behavior and steadfastly holding his sincerity in relations with respect. 
Shim Gong is not distant from us. It is with our daily lives. Seeing examples, helps us to better understand the aspects of Shim Gong as "a picture says a thousand words". There are many examples of those Moo Duk Kwan® pictures through the Founder's example and many other members who have left us a picture of Shim Gong through their actions. Such members who have now passed on, but whose legacy remains in their excellent Do Shim Gong examples. 
In part two, to be published in Moo Yei Shi Bo Volume 19, we will look at the areas of Philosophy (Chul Hak) and Nature (Ja Iyon).
Kam Sa Hap Ni Da
H. C. Hwang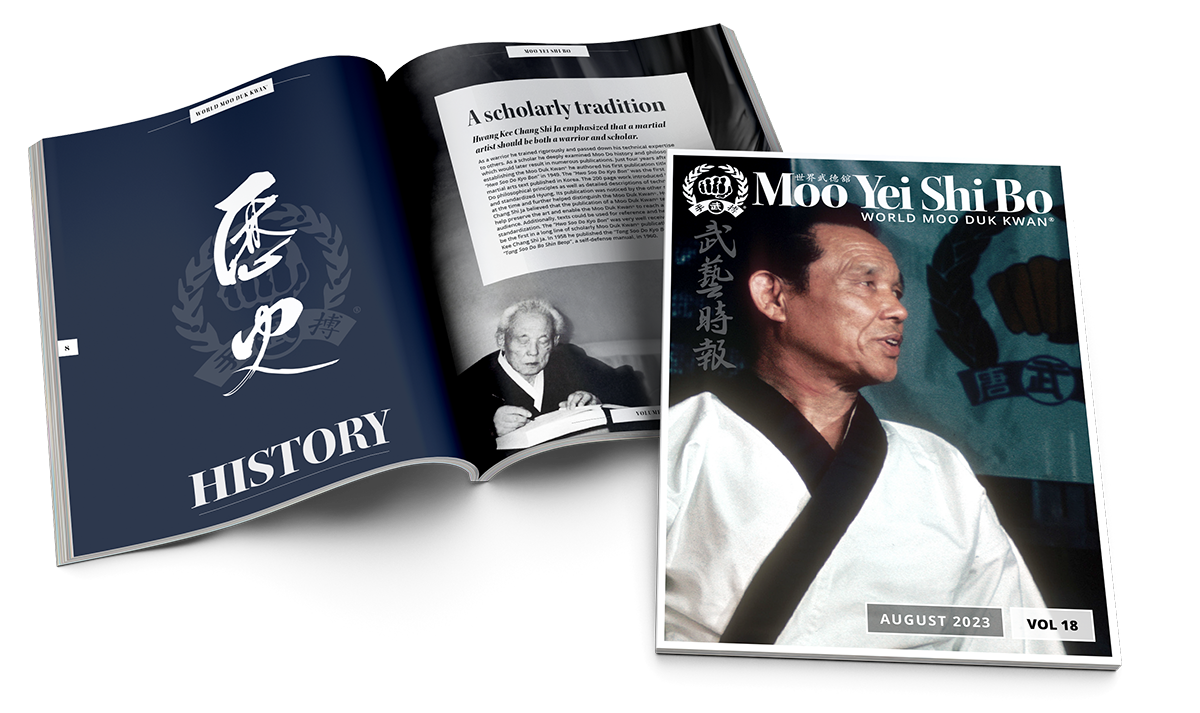 View the complete Volume 18 as a flip book or PDF to read this article and more with translations in Spanish, French and Korean.
Volume 18 articles available on the World Moo Duk Kwan website: